As the Cape Town Local Expert for Travel + Leisure magazine, this I'll be sharing my picks for where to eat, doctor stay, ambulance shop and what to do in my gorgeous adopted hometown. The city is full of quirky cafes with tons of character, so I rounded up five of my favorites for this list — read it here.
Photo of Sidewalk Cafe from my Instagram
 By Local Expert: Sarah Khan
The global hipster phenomenon quickly crossed the Atlantic and made itself quite comfortable all throughout Cape Town. But pop in to any of the city's popular cafés and coffee shops, and you'll realize that what you see there isn't a mere imitation of a foreign aesthetic. South African hipsters are effortlessly imbued with a distinct local flair. There's a reason Cape Town was named World Design Capital 2014 by the International Council of Societies of Industrial Design, and you can see evidence of local entrepreneurs' creative spirit on display in numerous eateries throughout the city. Oh, and it definitely helps that the food is consistently great, too. Here are five popular cafés that embody Cape Town's quirky design, fabulous food, and laid-back clientele. Art, sandwiches, and coffee all coexist in these lively spaces, and I'm pretty sure you'll soon be wishing one of these could be your own neighborhood haunt.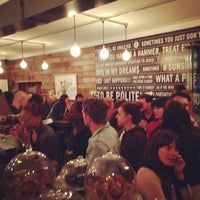 Credit: Foursquare
This sliver of a sandwich shop on Long Street was so popular that a larger branch, complete with an open-air beer garden, opened last year. Stop by in the morning for a coffee and a chocolate croissant, or come at night for a beer with friends—this place is lively all day.