As the Cape Town Local Expert for Travel + Leisure magazine, side effects I'll be sharing my picks for where to eat, about it stay, for sale shop and what to do in my gorgeous adopted hometown. Coffee culture is big in these parts — in fact, barring the occasional Frappucino I was never much of a fan, and now I find myself partaking quite liberally. A lot of it has to do with the fact that Cape Town's funky coffee shops are some of my favorite places to hang out. With that in mind, I've come up with this list of my five favorites — read it here.
Photo of Origin Coffee Roasters from my Instagram
Best Coffee Shops in Cape Town
By Local Expert: Sarah Khan
There's a vibrant coffee culture brewing in Cape Town (pardon the pun) with a slew of quirky independent coffee shops popping up all over the city. Fair-trade, single-origin, freshly roasted—these are the catchphrases you'll hear throughout Cape Town, which is quickly becoming known for its thriving artisanal coffee scene. Whether you're on the lookout for a café with funky steampunk-inspired décor, searching for a rare bean from Ethiopia, or simply craving some tantalizing treats to pair with your caffeine fix, you'll find a one-of-a-kind coffee shop to suit your taste within the city limits. There's a reason Starbucks hasn't made its way into the South African market yet—the Seattle chain likely won't stand a chance against the homegrown heavyweights. So grab your brew to go or sit down and stay a while. Here are my picks for five of the best coffee shops in Cape Town.
Credit: Foursquare
Origin Coffee Roasting might be the pioneer of Cape Town's artisanal coffee scene. Tucked away in a historic building on a quiet street next to the De Waterkant complex, this café serves single-origin coffees, and has its own teahouse. The shop's school also offers classes in coffee appreciation and barista training.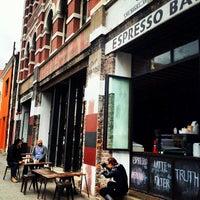 Credit: Foursquare
There are two Truth Coffee outposts in the city, but my favorite is the one on Buitenkant Street. One look at the dim, industrial-chic café—complete with a bar embellished in tin, copper tables, vintage typewriters and bicycles, and a massive coffee roaster—will have you swearing by its steampunk style. The flat whites are great, too.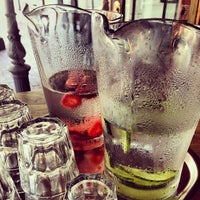 Credit: Foursquare
This new addition to Cape Town's extensive list of coffee offerings opened late last year along a lively stretch of Regent Road in the Seapoint neighborhood. The décor of this perennially packed joint is simple and stylish, with slate gray walls and a black-and-white tiled bar. Get there early for eggs Benedict with a cortado, or swing by late for a post-date cappuccino—this is one of the few coffee shops in the city open till 10 p.m. (11 p.m. on weekends).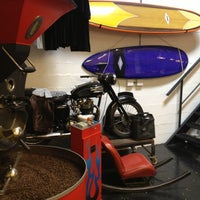 Credit: Foursquare
This tiny roastery in the heart of the Central Business District has a cult-like following for its brews, using beans sourced from Kenya, Ethiopia, Brazil, and beyond. You'll also find Deluxe coffee on offer at popular restaurants throughout the city, or stock up by buying a few bags to take home with you.
Credit: Foursquare
The artsy Woodstock district has its own booming coffee scene. My pick in the neighborhood would have to be Rosetta Roastery, on the ground floor of the hip Woodstock Exchange complex. Browse furniture, skateboards, and art in the neighboring stores, then pop in to refuel with a single-origin, micro-roasted espresso.